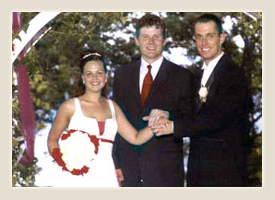 "Dave was great, fun and relaxing to work with and made our wedding day fabulous! Dave was there through the whole process and helped us with all the crazy questions that we had. Right from the start Dave told us 'this is your wedding, it needs to be how you both picture it and I am just here make sure it happens that way and help you with all that I can.'
As it turned out, our wedding was how we pictured it for all those months and Dave helped make that happen! All we can say is thanks for the wonderful and memorable day."
Jason & Katrina Bradley
---
"The things you said were perfect. Many people remarked about what a great job you did. I just wanted to let you know that we will recommend you to others for sure. We had a great day. I couldn't have asked for anything better - simple and tasteful."
Tim & Annette Knapp
---
"We never thought we would find an officiate who would be able to conduct a ceremony reflecting both our Jewish and Catholic faiths the way Dave DiRaddo did. Dave was recommended to us as being a Minister who was open to all ideas. From our first conversation, when Dave told us that both our traditions and faiths could easily be incorporated, to the final ceremony which left no symbol unexplained, we knew that Dave truly took the time to understand both of our beliefs.
Throughout the harried months leading up to our wedding, even though he was actually three states away, Dave made sure he was just a phone call or an email away. He would constantly remind us that no matter what other details we were worried about at the time, we needed to remember the most important thing- that it would be our day to express our love for each other.
We will always remember Dave's eloquent explanations of the lighting of the unity candle, the meaning of the breaking of the glass, and his powerful voice reading ancient prayers of love. Our beautiful ceremony would never have been so unique and powerful if it were not for Dave. Thank you for making our wedding a reflection of who we were as individuals, and who we are as a married couple!"
Michael & Davina Owens
---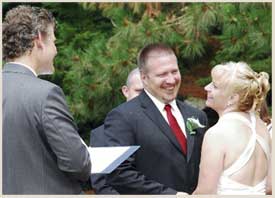 "Thank you, Dave, for making our special day everything we had hoped. The planning process was very beneficial; even without a rehearsal we felt the wedding went beautifully. You put us very much at ease during the ceremony and we appreciated the message that you gave."
Ed & Sue Fackler
---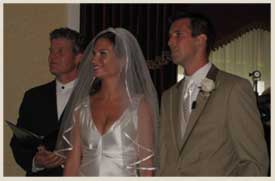 "We wanted to thank you for being part of our wedding, and making it truly memorable. You were fantastic and the ceremony was everything we wanted it to be. Your words were thoughtful, personal, and insightful, and your personality had everyone engaged. We have received so many comments from guests who raved about the ceremony - it was perfect. I think one of my friends put it best when she said, "I've been to ten weddings this year, and this is the first one where I paid attention to every single word."
Franny & Matt DiGiulio